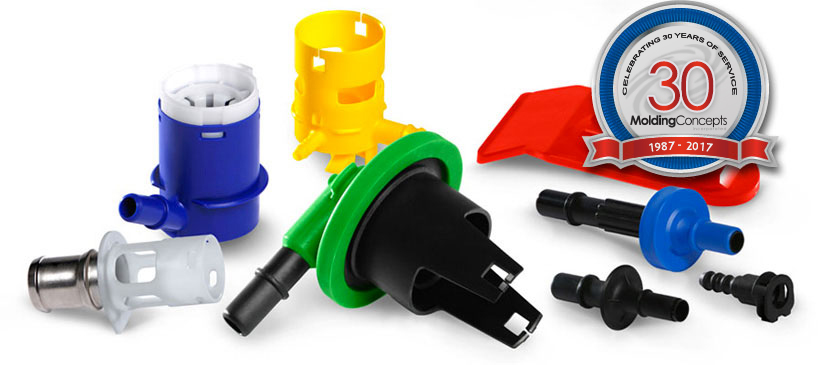 We get it right the first time, so there is no second
At Molding Concepts, we make injection molded plastic parts for customers in the Automotive, Medical, and Appliances industries. Backed by our Quality Policy, we guarantee that you will get the part you need on time and on budget.
We use SURFCAM, SolidWorks, Mechanical Desktop, and Mastercam to build plastic injection molds that will keep our customers businesses moving forward. We provide overmolding and insert molding, and we have more than 24 years experience in the overmolding of bobbins.
AUTOMOTIVE
Automotive plastic injection molding manufacturing is a vital part of the auto industry's supply chain. As an OEM for the auto industry, Molding Concepts is a plastic injection mold maker that delivers for the auto industry.
MEDICAL
Medical plastic injection molding requires the highest standards of precision and excellence. Molding Concepts provides plastic injection molding services that ensure that we can handle most requests from the medical industry, from design through manufacturing.
APPLIANCES
Our team can produce functional prototype plastic parts that are ready for your review in an average of just a few weeks, depending on the complexity of the part. At Molding Concepts, we have decades of experience in producing quality parts for appliances that improve people's lives and keep business on track.

Request
Quote
When you're looking for a fast turnaround on your plastic injection molding cost questions, Molding Concepts can deliver. You will deal directly with the President of Molding Concepts, Norman Fouts.
Send us your request, and we'll get back to you within 24 hours.